May 18th, 2011 by MamaBear
A city just outside the metro Atlanta area called Forest Park has recently made it illegal for children over 2 to nurse in public.  You heard that correctly.  Illegal.  As in, can be fined for it.  Or possibly even put in jail.  For nursing.  A toddler.
There is no shame — or at least, there shouldn't be any shame — in breastfeeding a baby or a toddler in public.  This is what a toddler nursing looks like:
  And this: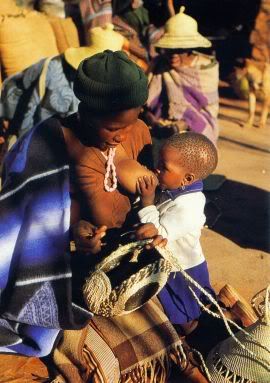 And this:
It should be obvious to everyone that a law like this one is hostile not only to those who breastfeed a toddler of 2+ years, but to every breastfeeding dyad.  Why?  Well, if a mother is breastfeeding a baby of any age (even younger than 2) in a place where a law like this is in effect, this means that legally, she can be harassed for breastfeeding her baby.  She may not be fined or jailed for breastfeeding a baby that is under 2, but she could be questioned, pestered, bullied, and shamed into early weaning because of it.  A law like this could make it a cinch to drive the already floundering breastfeeding rates in the United States all the way to the floor.  It needs to be NIPped in the bud. (Pun totally intended.)
A breastfeeding-supportive father, This Daddy, called John Parker, City Manager of Forest Park, GA, and one of the creators of this asinine law.  Here's This Daddy's entry about the phone call, which reveals a lot about John Parker's priorities.
There will be a nurse-in to peacefully protest this harmful law.  KellyMom on Facebook has all the details.  If you live in Georgia or in the surrounding area, please try to make it there, Monday, May 23rd at 10:00 A.M. Here's the address:
745 Forest Pkwy, Forest Park, GA 30297
If you can't attend the nurse-in physically, at least write Forest Park and tell them you think this law is harmful for babies and their mothers, and why.  Use this contact form.  If you prefer to use your email or snail mail a letter, or if you'd like to call or fax John Parker's office, here is the information necessary to do so:
Office of the City Manager
745 Forest Parkway
Forest Park, Ga. 30297
Phone: 404-366-4720
Fax: 404-608-2343 
John Parker, City Manager
Email address - jparker@forestparkga.org
Angela Redding, Management Analyst
Email address - aredding@forestparkga.org
Jan Young, Executive Assistant
Email address - jyoung@forestparkga.org
Last but not least, there is a petition you can sign called "Repeal restrictions on breastfeeding" to help with this cause.  Please do.
Comment on my Facebook page, please:
Save to del.icio.us